| | |
| --- | --- |
| | 858-531-1190 |
| | San Diego, CA |
Gwendolyn Lowder-Delavar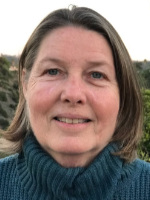 Gwen has over 25 years of experience in the field of veterinary medicine. She has worked as a kennel assistant, veterinary technician, mid-wife to mares, receptionist, anesthesiologist and practice manager.
Gwen founded VetMgrCentral in 1992. She co-authored Marketing Made Easy, a veterinary specific marketing book, and is also the producer of VetQuiz, a training board game for veterinary hospital staff. In addition, Ms. Lowder completed VMC, Inc.'s School of Practice Management in 1989.
Email:
You have been so wonderful and supportive. I couldn't have asked for someone better to support me through this.
Dr. CC, Emergency Veterinarian
Julia Janas

Julia has worked with Gwen since the beginning and has worn many hats for VetMgrCentral; office manager, marketing director, and now recruiter. Julia co-authored Marketing Made Easy, as well as played an integral role in development and marketing of VetQuiz. Julia graduated from San Diego State University with a B.A. in Biology. Upon graduation, she worked in a veterinary hospital as a veterinary assistant and eventually moved to biological research at The Salk Institute in La Jolla, CA.
Julia conducts all initial candidate interviews and reference checks. She has talked with hundreds of veterinary candidates over the years and has developed a skill in asking the right questions to gain a greater understanding of the candidate's personality and a sense of their management style. Julia has successfully placed dozens of veterinary candidates, many of which are still with in the original practice placed.
Email:
DeAnn Lowder-Jones

Email:
Patience Davis

Email:
Anna McSwiggen

Anna is a recent college graduate from the University of California, Davis with a degree in Psychology and a minor in Human Development. While she absolutely enjoyed her time in Northern California, she loves being back in her hometown of San Diego- you can't beat the warm weather, beaches, and all the palm trees.
Anna loves to travel and to be outdoors. She spent a month exploring all around Europe after graduation and fell into recruiting when she got back. And has loved every second of it. She loves being able to work with both clients and candidates and is passionate about finding veterinarians the job that is just right for them. Although she is fairly new to the industry, she can't wait to see what the future has in store for her in the world of recruiting.
Email:
You can give us a call or fill out the form below. All inquiries are confidential. Questions? Check our FAQ page.
Supercharge your recruitment with our Recruiting 101 training.
Whatever your reason for looking, we are here to help you find a veterinary employer that's the right fit for you. You can give us a call or fill out form below. All inquiries are confidential.